Contact
Mr Mike Henley FRCS(Eng) FRCS(Urol), Consultant Urological Surgeon. Derby City Hospital, Uttoxeter Road, Derby, UK.
Contact via my secretary, Angela Marshall on :-
01332 625929 or email angela.marshall@urol.info
To contact Mr Henley directly or in case of comments about the site please click here.
Traveling to Derby
Derby has excellent communication links. It is about 40 minutes from Birmingham 1 hour 40 from London, 2 hours from the Northwest, 3 hours from the Northeast, Norfolk or the Southwest.
Derby Hospitals
I practice from 2 hospitals, Derby City Hospital and the Nuffield. The first of these is a major teaching hospital and is undergoing a £330 million re-development. It has many single occupancy rooms with en-suite facilities to minimise hospital acquired infections. Derby urology itself is a major unit, accepting tertiary referrals from local units, currently it is the third busiest unit in terms of urological cancer in the UK as measured by returns to our specialty organisation, the British Association of Urological Surgeons. Our catchment area is over 1 million patients. The Nuffield hospital is a well equipped private hospital with a high dependency unit. Both hospitals are well placed on the edge of the city for easy access.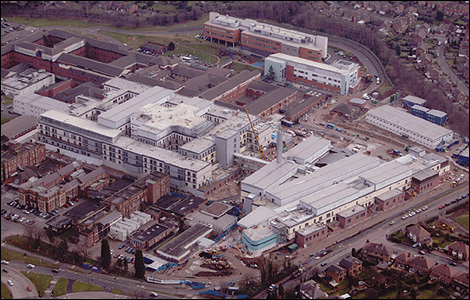 Staying In Derby
If yourself or a relative is attending the Derby City Hospital, Derbyshire Royal Infirmary or the Derby Nuffield Hospital there are a number of good quality hotels in the Derby area. Centrally placed opposite the DRI is the Stuart Hotel, this is a modern 'boutique' hotel with room prices from £90 per person. Just to the north of Derby is the Breadsall Priory Hotel, this grade 2 listed hotel has extensive facilities including 3 gymnasiums, a pool and golf course. It is approximately 15 minutes from both the DRI and the Nuffield. The Mickleover Court Hotel is a modern hotel with a fitness centre, swimming pool and restaurants, it is placed approximately 5 minutes away from the Derby Nuffield Hospital. Several good restaurants can be found in the Sadler Gate area and for a more formal meal Darley's, picturesquely next to the River Derwent is recommended. The Premiere Travel Inn (£58 per room) is opposite the Derby City hospital and next door to several restaurants.
NHS outpatient Clinics at Derby City Hospital:-
New patients Tuesday 2pm until 5pm (current wait for routine patients approximately 9 weeks). Follow up patients Friday 9am until 12.30pm
NHS Ward Rounds
Every Tuesday at 5pm and Friday at 1.30pm.
Surgical Waiting List
In patient waiting list for non urgent cases approximately 3 months. Day case waiting list for routine cases 3 months. Urgent cases considerably sooner.
Private Clinic
Nuffield Hospital Derby. Please contact the Nuffield Hospital outpatients at Rykneld Road, Littleover, Derby, DE23 4SN. Telephone: 01332 517891. Clinics Tuesday morning, Thursday afternoon and other times by arrangement. Map
NHS Referrals can be made via general practitioners and private via GP or the Nuffield Hospital Derby on the above telephone number.
Private patients should normally have been referred by their GP or have an existing NHS appointment with me. To change from NHS to private please call Angela Marshall.
New patient consultation (40 minutes as opposed to the standard 30 minutes) is £144. Follow up (20 minutes as opposed to the standard 15 minutes) is £108. Considerably shorter or longer consultations may be billed proportionately at Mr Henley's discretion.
Arrangements can be made for self funding patients to pay by credit card or spread payments if required. The Nuffield Hospital Group has a number of interest free loans to enable patients to cover the cost of their treatment as well as fixed price options for patients who wish to have their surgery privately and are not insured. Costs for fixed price surgery can be obtained via Angela Marshall on the above number.
Colleagues
I am fortunate to work in an excellent unit with very good colleagues. Mr C Chilton, Mr A Peracha, Mr S Thomas, Mr JH Williams and Mr S Williams secretaries are available on 01332 340 131.