About the Site
This web site is designed to give you access to advice on urological matters. Urology, because of its nature is often a difficult matter to discuss or bring up with your GP. It is important to realise that urological disease is extremely common for men and women and many people suffer needlessly. Another important factor is that urological cancer, especially bladder, prostate and testicular cancer is far more curable when discovered early. I hope that this site will give you the confidence to discuss these matters with your general practitioner
The site is in evolution, as time goes by more pages, detail, video and animation will be added. If you wish to be notified when the site is updated click here. If there is something that you would like added to the site you can email me from here.
Another important point is that the site contains the opinion of the author and is not an official site on behalf of Southern Derbyshire NHS Trust. Urology like all of medicine is still more art than science and although my colleagues would agree with most of what is written here they certainly will have their own variations of practice.
More Information About The Hospitals and Derby Urology
Traveling to Derby
Derby has excellent communication links. It is about 40 minutes from Birmingham 1 hour 40 from London, 2 hours from the Northwest, 3 hours from the Northeast, Norfolk or the Southwest.
Derby Hospitals
I practice from 2 hospitals, Derby City Hospital and the Nuffield. The first of these is a major teaching hospital and is undergoing a £330 million re-development. It has many single occupancy rooms with en-suite facilities to minimise hospital acquired infections. Derby urology itself is a major unit, accepting tertiary referrals from local units, currently it is the third busiest unit in terms of urological cancer in the UK as measured by returns to our specialty organisation, the British Association of Urological Surgeons. Our catchment area is over 1 million patients. The Nuffield hospital is a well equipped private hospital with a high dependency unit. Both hospitals are well placed on the edge of the city for easy access.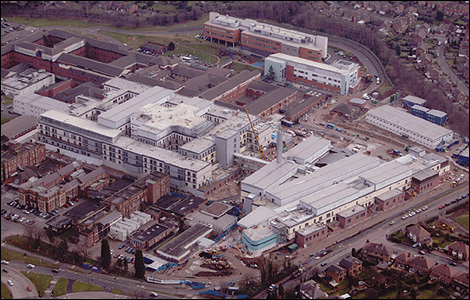 Staying In Derby
If yourself or a relative is attending the Derby City Hospital, Derbyshire Royal Infirmary or the Derby Nuffield Hospital there are a number of good quality hotels in the Derby area. Centrally placed opposite the DRI is the Stuart Hotel, this is a modern 'boutique' hotel with room prices from £90 per person. Just to the north of Derby is the Breadsall Priory Hotel, this grade 2 listed hotel has extensive facilities including 3 gymnasiums, a pool and golf course. It is approximately 15 minutes from both the DRI and the Nuffield. The Mickleover Court Hotel is a modern hotel with a fitness centre, swimming pool and restaurants, it is placed approximately 5 minutes away from the Derby Nuffield Hospital. Several good restaurants can be found in the Sadler Gate area and for a more formal meal Darley's, picturesquely next to the River Derwent is recommended. The Premiere Travel Inn (£58 per room) is opposite the Derby City hospital and next door to several restaurants.
Legal Note
The information provided is the copyright of the producer of the site and is not to be duplicated in any way other than printing pages for the personal use of you or your family.